Background
Herpes simplex is a virus that causes recurrent infections of mucosal tissues such as the lips, eye and genital tract. Two distinct species have been described, which differ in their DNA sequence and tend to affect different tissues. Most often, the species affecting ocular tissues is type 1. Approximately 50% people by the age of 40 have been infected by herpes simplex and almost everyone has been infected by their 70's. The virus incorporates itself into our DNA in a portion of the brain known as the trigeminal ganglion, only causing symptoms when latency is lost and the virus travels down the nerve to the mouth, lips or eye. Only a small proportion of individuals suffer from herpes simplex infections (cold sores, for example) because only a few strains persistently lose latency. Only rarely, do we observe primary infections of the eye, more often in children than adults.  Herpes simplex infection of the eye usually result from reactivation of latent viral infection. Certain triggers, which differ between individuals, precipitate a recurrent episode.
How is the eye affected?
i) Primary Infection
Usually small blisters around the eyelid are found associated with a red sore eye (follicular conjunctivitis). Occasionally, the cornea can be affected by primary infection with dendritic ulcers and swelling (disciform keratitis).
ii) Recurrent HSK
a) Epithelial disease
Characteristic lesions called dendritic ulcers form which respond to acyclovir (Zovirax) ointment or F3T drops.
b) Disease of the corneal stroma
The corneal endothelium may be locally affected reducing its ability to keep the cornea dry and transparent. This results in blurring of vision. The picture below shows the cornea of a patient after 3 weeks treatment, showing resolution of the swelling, but persistent stromal haze and inflammatory cells (keratic precipitates) on the back of the cornea (corneal endothelium).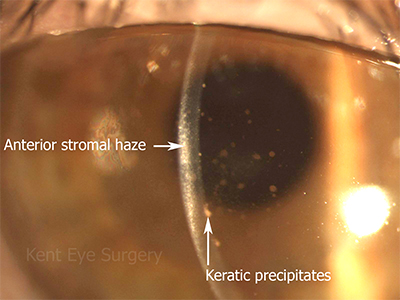 Occasionally, the the trabecular endothelium is also involved, which reduces aqueous fluid drainage from the eye and results in high intraocular pressure.
Another form of corneal stromal disease is necrotizing interstitial keratitis, where white infiltrates form usually in the corneal periphery often associated with vascularisation and corneal thinning. If the overlying corneal epithelium is lost, there is a risk of corneal perforation in these patients.
Treatment
For epithelial disease, a 2 week course of acyclovir ointment is required. This often disturbs the normal corneal epithelium which can take a week to recover after the ointment has been stopped. Steroid drops can excarcerbate a corneal ulcer and turn a well localised dendritic ulcer into a much larger metaherpetic or geographic ulcer which might perforate.
For the stromal lesions, steroids drops are often required to hasten resolution and are frequently used long-term to decrease the risk of recurrent stromal disease. We are using much more oral acyclovir now the drug is off-patent. Oral acyclovir reduces the risk of recurrent stromal disease from 32% per year to 19% per year.